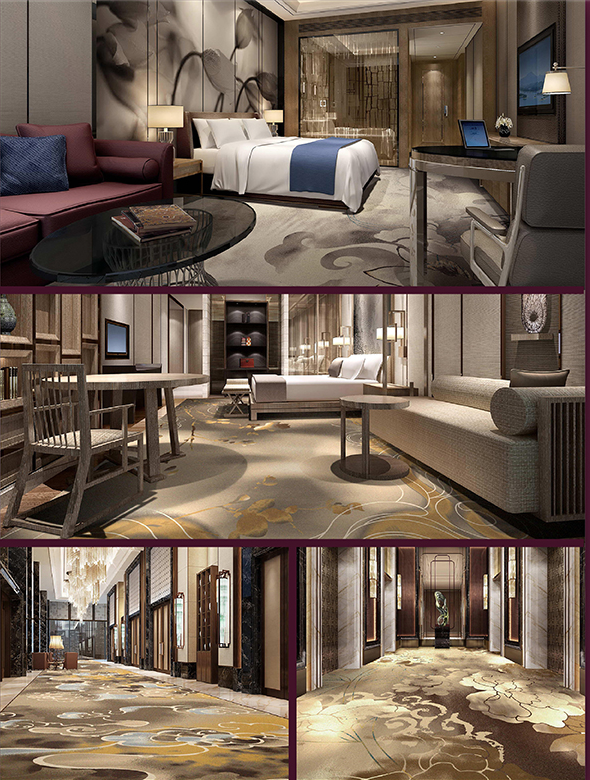 Brand Name
Huade
Category
Printed carpet
Place of use
Hotel/ Apartment/House/Room/ Bar/Cafe
/Mosque/ Conference/Office/Lobby/ Hallway/
Corridor/ Casino/ Restaurant/ Public Areas...
Advantages
Sound absorbed, fire resistant, waterproof, oil-proof, anti-static, air purified, Anti bacteria,
Material
Backing
action back
Pile yarn
Nylon, polyester fibre
Construction
Cut pile/ Loop pile
Pile height
3-25mm (0.11~0.98inch)
Pile weight
300-2500g(10.6~88.3oz)
Stitch
30-55/10cm
Gauge
1/4,1/8,1/10,1/12,1/20,5/16,5/32,5/64
Design
Any pattern can be made, satisfy customers' personalized
demand.
Size
Metric(m)
Width:4/3.66; Length:25-45
British(ft)
Width:13.12/12; length:82-147.6
MOQ
300 square meters
Packing
In roll with anti-water PP woven fabric
Delivery date
7-30 work days upon deposit
Payment
30% deposit, 70% balance before shipment by T/T,,L/C,,Western Union,
Wholesale custom chromojet printing carpet
Huade printed carpet takes world's most advanced electronic printing technology, maximized meeting
customers' demand for personalized design with rich bright colors and layers. And because of the
flexible production and timely delivery, the printed carpets are popular among all kinds of customers.
It is applicable to the hotel conference room, restaurant, cafe, office, home and any other public places.